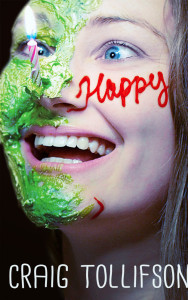 I've been working hard on a novel that I started several years ago, called Happy:
Frank just turned 25… or did he? After his father passes away, he discovers he's been celebrating the wrong birthday his entire life. His new friend Lucy insists he re-celebrate them all over again before he really turns 25 in a month. Cramming 25 birthdays in 25 days is the most fun Frank's ever had and can't help but wish for the same thing with every blown-out candle: to win Lucy over. Together, they re-live moon bounces, Shakey's pizza parties, and getting to second base while Frank digs into the family history to discover why his parents changed it in the first place–and the bombshell of a secret behind it all.
It's a fun romp (are any romps not fun?). It should be finished and have you laughing through the tears in early 2015. Be sure to sign up for my newsletter to be notified when it's available!